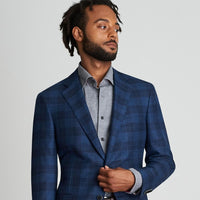 TONY THE TAILOR
Tony The Tailor is a lifestyle destination for discerning gentlemen with unique sensibilities, looking to combine classic styling with a contemporary mind set. Our gentlemanly sophistication is perfectly-paired with subtle hints of irreverence. Tony The Tailor is driven by a passion for exquisite hand-tailored clothing, and obsessed with creating a unique environment for the perfect shopping experience. Master-Tailor Anthony Paranzino has assembled an extraordinary combination of world-renowned vendors and support staff with one goal in mind — to exceed your expectations.
 The best way to experience the Tony The Tailor Lifestyle is to stop by our Downtown Charleston store. Here, you will find a place "where a man can be a man." Each season, Anthony Paranzino creates a curated collection from influential brands. Tony The Tailor is an authorized retailer for Samuelsohn, Oxxford Clothes, Brax, DiBianco, Cole Haan and Emanuel Berg among other esteemed brand-partners.
The Tony The Tailor Lifestyle categories include:
Real Bespoke & Custom Clothing
Ready to Wear & Tailored Clothing
Dress & Casual Footwear
Active Wear & Denim
Leather Goods & Luggage
Grooming Products
An Eclectic Range of Gentleman's Accessories
In store services:
Personal shoppers
Stylist Consultations
Complete Tailor & Alterations shop
Make a point of visiting Tony The Tailor. More than likely, you will find that our quality is the right fit.
BESPOKE TAILORING SERVICES
Tony The Tailor - A Few of Our Brand Partners
THE MID-ATLANTIC'S PREEMINENT MEN'S STORE
DOWNTOWN CHARLESTON
822 Virginia St East 
Charleston, WV 25301
304-833-9403
CHRISTMAS HOURS
MONDAY: 11:00am to 5:00pm
TUESDAY ~ FRIDAY: 10:00am to 6:00pm
SATURDAYS: 10:00am to 3:00pm