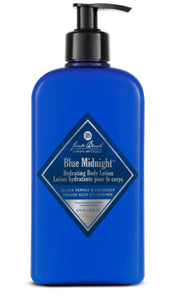 Jack Black Blue Midnight Hydrating Body Lotion
Regular price $32.00 $14.00 Sale
A seductive blend of rich aromatics and hydrating butters and oils combine to create this nourishing body lotion, capturing that moment with light turns to dark, evening falls, and the sky becomes a deep, luxe blue.

Black Pepper, a spicy, intriguing, masculine scent, melds with the soothing, complex, and compelling notes of French Lavender. Driftwood and Salted Amber contribute sun-soaked, mystical touches to create a seductive, hydrating lotion–a nod to the intrigue of the deep dark blue of midnight.

What's In It
Shea Butter: Contains essential fatty acids to hydrate and moisturize dry skin.

Olive Oil: Contains nourishing vitamins and antioxidants that keep skin smooth and supple.

Baobab Oil: Certified organic oil–rich in fatty acids–offers superior moisture to rejuvenate skin.