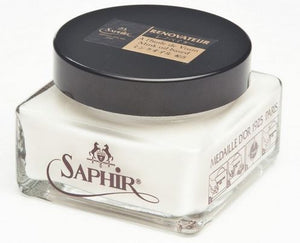 Saphir Renovateur
Regular price $26.95 $26.95 Sale
The Saphir Medaille d'Or Renovateur Cleaner and Conditioner is considered by shoe aficionados to be the absolute best all-purpose shoe care product available worldwide. Saphir Renovateur is appropriate for use as a conditioner during a normal shine or used alone between shines.
Most-popular Saphir product.
All-purpose cleaner and conditioner.
Perfect for smooth calfskin, crocodile, alligator, ostrich, and cordovan.
Water-based formulation - no solvents.
Rejuvenates leather through deep conditioning.
Contains waxes for soft matte patina.
Made in France.
Do not use this product on leather handbags. Use the Saphir Nappa Leather balm.